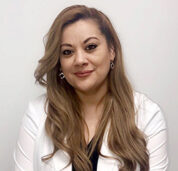 Alma Perales
General Manager
Alma has been with the company since inception.She has over 20 years of experience in the healthcare industry.She has held positions in many areas of the healthcare profession over the years. She is Medical Billing Certified and has extensive expertise in this area. As general manager of 63 Laser & Skin Clinic Alma understands the needs of our patients and helps provide a warm and friendly environment, "we treat every patient as if they are our own family member!" She shows an amazing understanding of patient coordination and maybe the most important attribute she provides our patients is financing plans custom to their needs.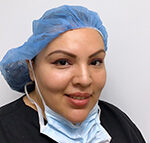 Lynette
Operating Room Supervisor
Lynette has been with 63 Laser & Skin Clinic from day one and has gained experience in both medical and surgical settings. She currently runs day-to-day operations of our accredited surgical center.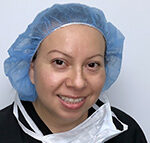 Diana
Registered Nurse
Diana is a registered nurse with years of experience in patient care and she currently works as a Recovery Room Nurse at our surgical center.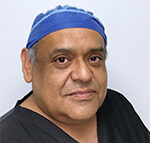 Luis
Operating Room Technician
Luis has been in surgical settings at many hospitals and surgical centers in Chicago. He has over 25 years of experience as a Surgical Technician.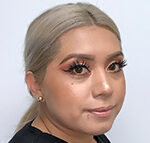 Sherry
Medical Assistant
Sherry has over 6 years of experience working as a medical assistant. She carries a Medical Assistant Certification and a Phlebotomist Certification.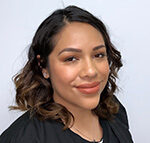 Adriana Torres
Medical Esthetician
Adriana finished her education at Tricoci University of Beauty Culture. She has been working as an esthetician for the past 6 years. Adriana has also been trained as a Certified Laser Technician by Syneron Candela. Ever since working for 63 Laser & Skin Clinic, she has been trained to perform medical grade chemical peels, Micro Needling under direct supervision of Dr. Sayeg. She has been trained by Physicians Care Alliance(PCA) and has a great understanding of what skin care products would suit any individuals' needs.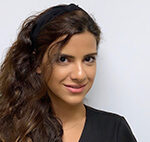 Ava
Patient Coordinator
Ava Mashouf is a patient coordinator. She holds a Bachelor in Biology and is currently working on her Masters program. Ava has a unique way of making patients feel comfortable with their decision to become a part of our 63 Laser & Skin Clinic family. She loves being a part of the entire process from meeting patients at their initial consultation, to seeing them through to their recovery.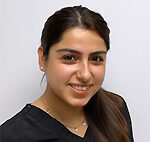 Diana
Medical Assistant
Diana is a medical assistant and patient coordinator at 63rd Laser and Skin Clinic. She holds a Bachelor of Science degree. Diana has worked in various medical settings including laboratory and physical therapy. She is currently completing higher education for Physician Associate Studies. She enjoys working with the rest of the team and advancing her skill set!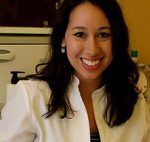 Susan Anthony
Consultant
Susan Mary Anthony, has been an esthetician for fourteen years. With formal training in Bournemouth, England as a complementary therapist, her education centered on skin care, body work, make up application and nutrition. Upon arriving in Chicago, Susan worked for leading surgical groups in the field of medical esthetics operating and treating skin with laser corrective therapy, developed her experience in body contouring, and educated hundreds in Microdermabrasion techniques as a sales representative for a leading skin care company.Susan worked for East Bank Club for 3 years as an educator and Esthetician. Susan brings her extensive knowledge and expertise to her clients along with a passion to deliver what she feels are some of the best and most effective services on the market today. In her free time Susan volunteers with the "look good feel better" program through the American Cancer Society and serves at her church on the welcome and prayer team. Susan is fluent in Spanish and has been featured in the following articles: Women's Forum, Benefits of a Facial, Finding the Best Cleanser for Your Skin
63 Laser & Skin Clinic accommodates patients with the latest medical techniques by experienced and trained specialists. We all work under one roof in a state of the art facility. Our clinic was created to satisfy your beauty needs by providing medically proven treatments.
YOUR HAPPINESS IS OUR MISSION!
Year Of Experience
20 Years
Financing Approved 2019
$1.7 Million
Appointment Requests
600+/Month
Request A Free Consultation!